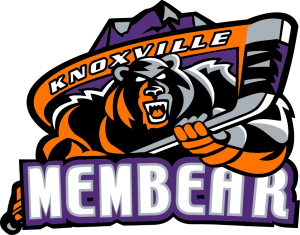 The Knoxville Ice Bears want to show our appreciation to the fans who pack out the Coliseum all season long! That's why we're giving away 30 awesome prizes leading up to Opening Night! All current and new full-season MemBEARS will be entered to win a prize each day starting September 18th through October 23rd. Have you been thinking about becoming a MemBear? There is no better time than NOW! Lock in your seats for the 2023-2024 season and be entered to win one of these awesome prizes!
What are we giving away each day? Well, that's a surprise until the day of the drawing! We will post the prize on our social platforms at 10:00am and the winner will be announced at 2:00pm each day!
How to enter: Sign up for a full-season MemBEARship! If you are already a MemBEAR, then you're already entered in the daily drawings for your chance to win. Want to become a MemBEAR or upgrade your partial MemBEARship to a full season? Give us a call at 865-525-7825 to lock in your seats for the entire season!
You could win…
Tennessee Football Tickets – Two tickets to a Tennessee Vols football game
2 Box Seats – Upgrade your seats to box seats for a game!
Signed Jason Price Practice Jersey – Win a practice jersey and koozie signed by #13 himself, Jason Price!
Concession Package – $100 in concession bucks to enjoy during the season
Opening Weekend vs. Macon Mayhem – Win 4 tickets to the season opener vs. the Macon Mayhem in Macon, Georgia
Downtown Knoxville Hotel Stay – Win a weekend getaway at Crowne Plaza in downtown Knoxville
22-23 Replica Jersey – Win a free 22-23 away replica jersey
2 OneKnox Tickets – Win 2 tickets to OneKnox vs. Richmond on October 6th. We may or may not have some special guests there too!
Pre-Game Party Experience – Invite your pals out for a fun pre-game party before the game! This includes everything in our party package – no birthdays necessary!
Puck Dropper – Drop the puck at an Ice Bears home game
Holidays on Ice Season Passes – 2 season passes to Holidays on Ice in Market Square. Skate with the boys and Chilly throughout the holidays!
Ed Belfour Signed Jersey – Win a 22-23 away jersey signed by Hall of Fame Goalie Ed Belfour
Partner Prize Pack – Win a prize pack of gift cards from various Ice Bears partners
Columbus Blue Jackets Tickets – 4 tickets to a Columbus Blue Jackets game
Disney on Ice Tickets – 4 tickets to Disney on Ice here at the Coliseum
Warm-Up Bench Experience – Sit on the Ice Bears bench during pregame warmups before an Ice Bears home game
Welcome to Hockey Top Meet & Greet – Meet some special Tennessee Vol guests on our Welcome to Hockey Top home opener!
Lunch to MemBEAR Workplace – Win a free lunch for you and your coworkers delivered to you by the Knoxville Ice Bears
Broadcast Booth Experience – Sit up in the broadcast booth with our favorite broadcaster, Joel Silverberg, during an Ice Bears home game
Topgolf – Win 1 bay and 2 hours of play at Topgolf
Signed Mighty Ducks Goldberg Jersey – Didn't get the chance to meet Goldberg at our game last season? You can win a Mighty Ducks jersey signed by Goldberg himself!
Nashville Predators Tickets – 4 tickets to a Nashville Predators game during the 23-24 season
2 Team Store Gift Cards (2 winners) – Win $100 gift card to spend in the Knoxville Ice Bears team store
FanBoni Ride – The full FanBoni is yours for an Ice Bears game of your choice! Invite some friends to join you for the fun. FanBoni seats 12 people
Starting Lineup Announcer – Be the special guest in the Ice Bears locker room to announce the starting lineup before puck drop
Ober Mountain – Win 2 unlimited activity wristbands to Ober Mountain in Gatlinburg to enjoy a fun-filled day with ice bumper cars, ice skating, Tennessee Flyer, and more!
Contract for a Day – Sign a one-day contract with the Knoxville Ice Bears and experience being a pro hockey player for a day
The Owners' Experience – Feel like one of the owners for a day! Enjoy a team morning skate, sit in a box during an Ice Bears home game, visit with the staff and more
Surprise Giveaway! – Yet to be announced!!
NOTE: Giveaways are subject to change! No purchase necessary. MemBEARS are limited to one winning draw. Only full-season MemBEARS will be entered to win.