Starting with the 2022-23 season, ALL tickets to Knoxville Ice Bears home games will be digital in order to offer added convenience for fans, avoid ticket fraud and improve security. Tickets can be managed through Ticketmaster on one's smartphone device. Ticketmaster accounts are free and allow users to manage, view or even transfer their tickets in a safe and secure fashion. The Ticketmaster App is available for download on the App Store or Google Play.
We understand not all of our fans own a smartphone. We also understand not everyone is used to managing tickets digitally. In an effort to accommodate each one of our fans' individual needs and concerns, please don't hesitate to call our staff at (865) 525-7825 with any questions you may have regarding digital ticketing or see Frequently Asked Questions.
Here's a helpful video, courtesy of Ticketmaster, on how to access tickets on your mobile device.
What is mobile entry?
Mobile Entry is the easiest and safest way to access tickets to your events.
When your event is Mobile only – your mobile phone is your ticket.
NOTE: For mobile entry tickets, you will only be able to access your tickets on your phone.  They will not be available to print from your online account, nor can they be emailed to you.
How To Access Your Ticket(s):
Open your Ticketmaster App or visit Ticketmaster using your mobile internet.
Login to your Ticketmaster account and locate the order with your ticket(s).
Tap and show. Your phone will be scanned for entry and you're in!
NOTE: Your ticket's barcode will change every ten seconds to ensure security. SCREENSHOTS OF TICKETS WILL NOT SCAN AT THE GATE AND WILL NOT ALLOW ENTRY!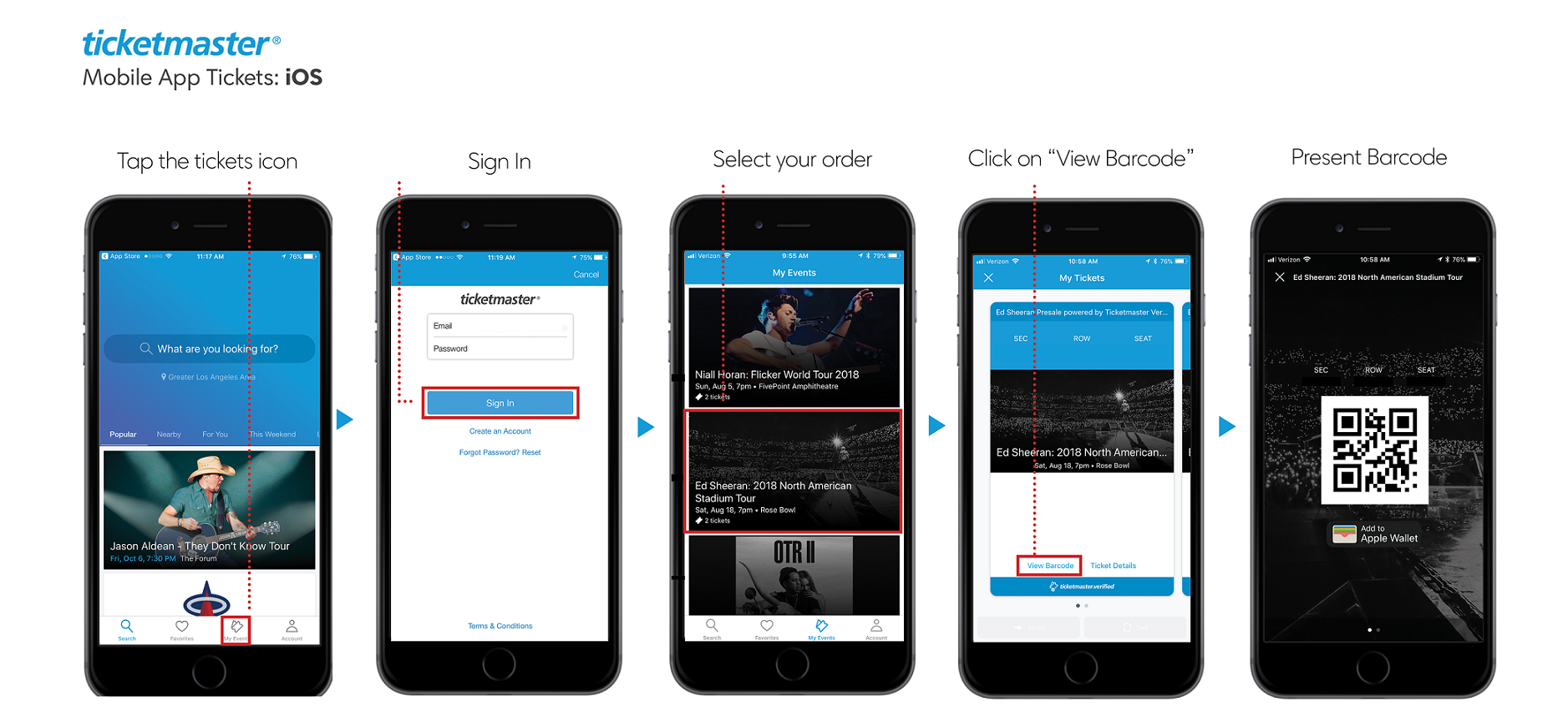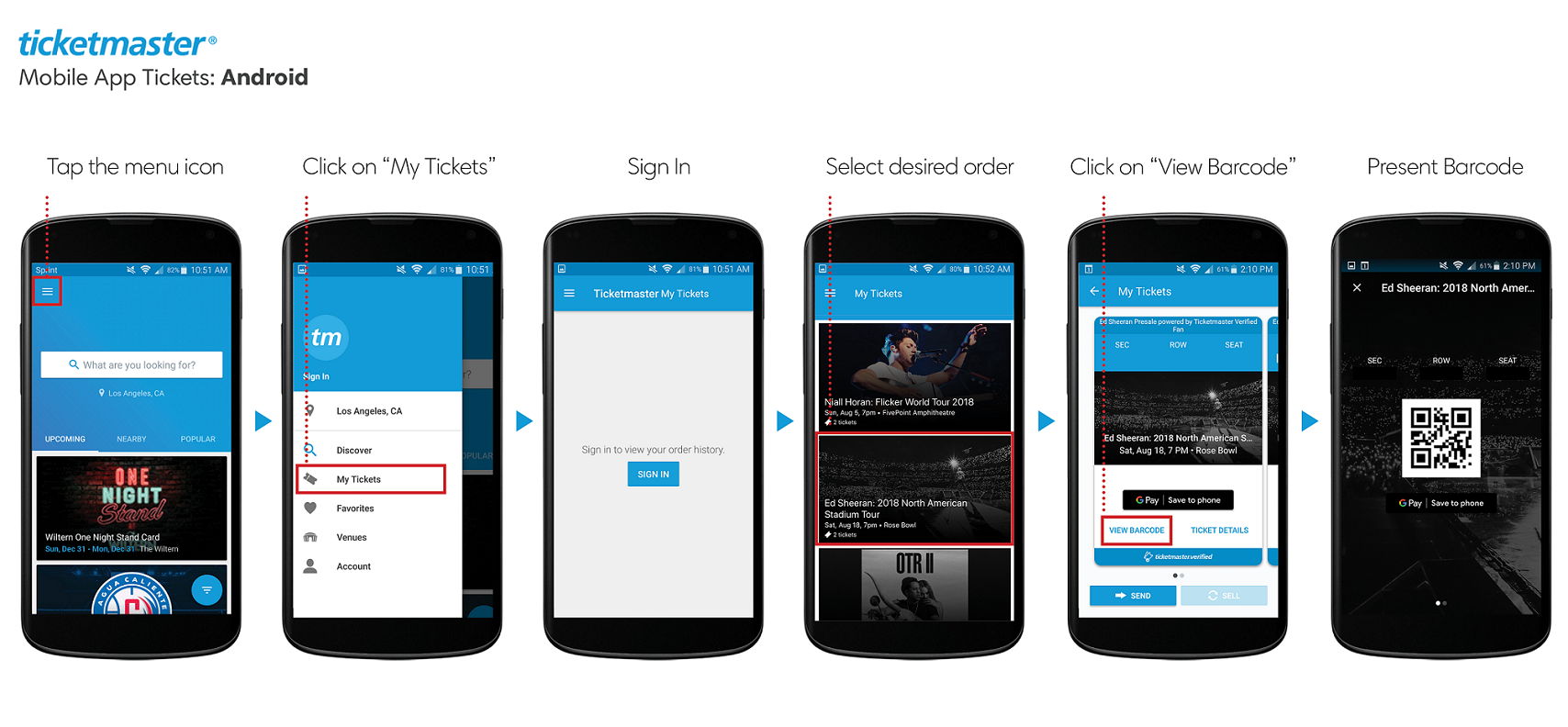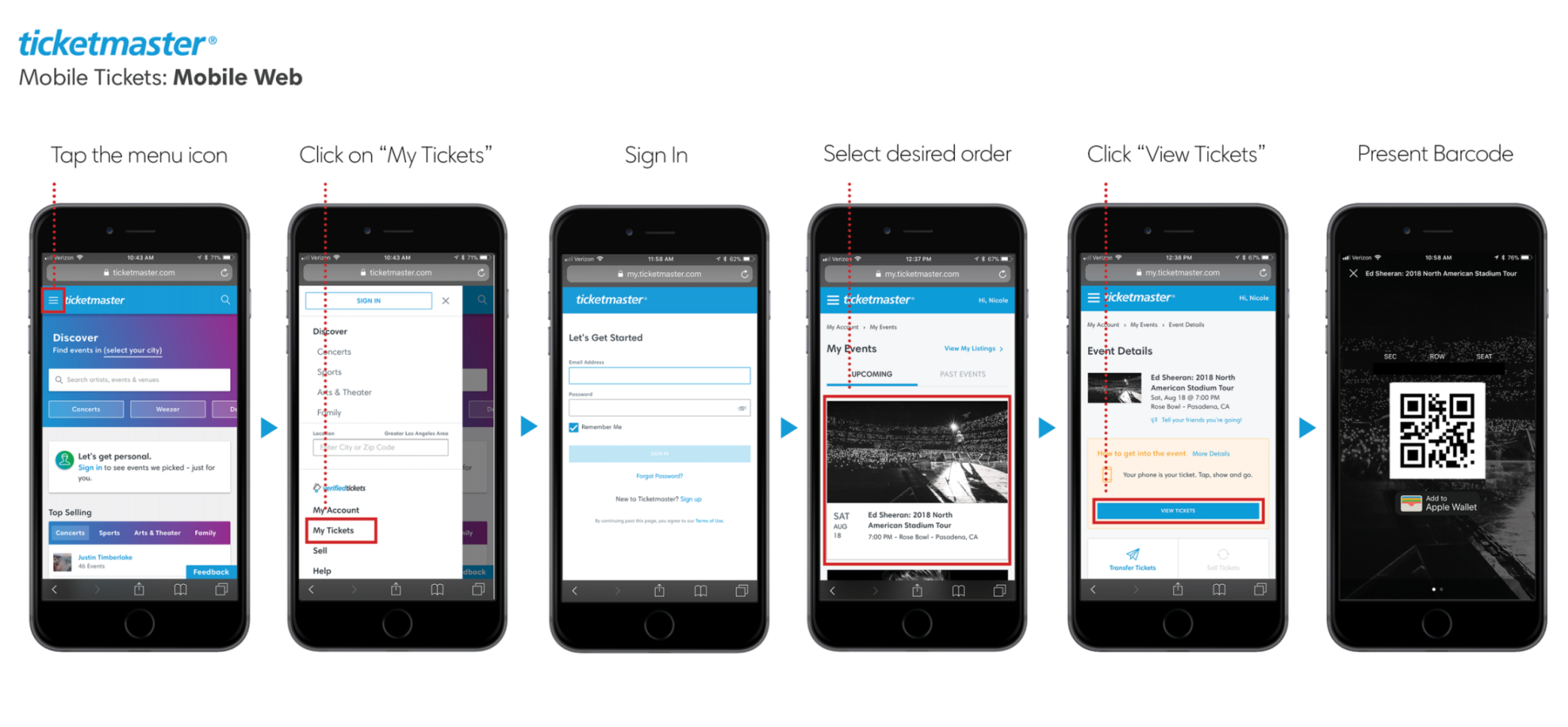 NOTE: While you can access your tickets on your Ticketmaster App, it is advised you download your tickets to your smartphone's wallet app prior to arrival so you will not require Wi-Fi access in order to scan your tickets. Downloading your tickets to your smartphone from the Ticketmaster App is the best way to ensure efficient entry into the Civic Coliseum.
Transferring Tickets
Transfer with the Ticketmaster App
Open the Ticketmaster App and sign in to your account.
Navigate to My Events and select the event to view your tickets.
Tap Transfer.
NOTE: If the Transfer button is grayed out, your tickets are not eligible for transfer.
Select the tickets you'd like to transfer and tap Transfer To.
Enter your recipient's information, including their mobile number or email address and an optional note.
TIP: If a mobile number is entered, a link to claim the ticket will open within a text message–all you need to do is press send! If an email address is entered, a link to claim the ticket is sent via an email message.
Tap Transfer Ticket.
Your transferred tickets will show as sent. When your recipient has accepted them, the ticket will show as claimed. You will receive an email confirming the ticket has been accepted by your recipient. After a successful transfer, the ticket is no longer valid for entry from your account.
Accepting Transferred Tickets with the Ticketmaster App
Accept Tickets via Email
Tap the Accept Tickets link in your email.
Log in or create a new account. Be sure to use the email address that the tickets were sent to. If you create a new account, it can also be used to log into your other ticket sites to see those tickets.
View your tickets by tapping View Tickets or by going to My Events.
Accept Tickets via Text
Tap the Login link in your text messages.
Log in or create a new account.
NOTE: Accepting season tickets or a ticket series? You may be directed to the team or venue's Account Manager site.
View your tickets by tapping View Tickets or by going to My Events.
Learn more about adding your tickets to your mobile wallet.
If you receive your tickets through our "Ticket Transfer" feature, you'll receive an email with instructions to accept your tickets. From your mobile phone, click on the "Accept Tickets" button and login to your Ticketmaster account. Or, if you don't have a Ticketmaster account, you can create a new one to accept your tickets.
Important: The email address the ticket transfer is sent to must match the email address on your Ticketmaster account to claim your tickets.
We always suggest practicing safe ticket shopping and management. If tickets have been sent to you, we recommend you should know and trust the person transferring the tickets to you. If the tickets were obtained fraudulently by the person transferring them, they may be canceled at any time.
Frequently Asked Questions
What if I don't have a smartphone? Can I still come to Ice Bears games? Absolutely! Our staff is more than happy to help find a suitable way for all of our fans to enjoy Ice Bears hockey this season! If you don't own a smartphone, feel free to give us a call at (865) 525-7825 to speak with a member of our ticket staff to see how we can accommodate your entry into the Civic Coliseum.
I'm a MemBear with multiple season tickets. Can I have all of my tickets on a single mobile device? Yes. You may either scan for each member of your party or transfer one ticket to each fan for entry into the game.
Can I print my ticket from home and bring it to the Coliseum? No. Only digital tickets on a smartphone may be scanned for entry.
What if my guest is arriving to the game at a different time? You will need to transfer one ticket for each member of your party that is not entering the Coliseum with you.
Does anyone I transfer a ticket to need a Ticketmaster account? Yes. Transferred tickets may only be sent and received through Ticketmaster. The Ticketmaster mobile app is free for download on the App Store or Google Play.
I sometimes don't have great Wi-Fi connectivity at the Civic Coliseum. How can I use my ticket? It is recommended you download your tickets from the Ticketmaster app to your mobile device's wallet app prior to arriving at the Coliseum. This way, you'll be able to access your downloaded tickets without the need for Wi-Fi or internet access.
I still have questions and concerns about digital ticketing. Who should I contact? Those with questions may call the Ice Bears office at (865) 525-7825 or email our Director of Ticket Sales at josh@knoxvilleicebears.com.