For immediate release
For more information, contact: Joel Silverberg, Director of Broadcasting (865) 525-7825, joel@knoxvilleicebears.com.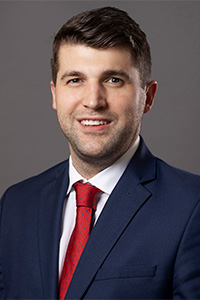 Knoxville Ice Bears Director of Hockey Development and Game Operations Taylor Stefishen has been named the 2023 Pauly Award winner for Community Service/Tourism by the Greater Knoxville Hospitality Association. Stefishen joined Knoxville's front office staff following the conclusion of his playing career, including a stint with the Ice Bears during the 2021-22 season.
"We are incredibly proud of Taylor and all of the work he has poured into the community over the past year," said Ice Bears President and GM Mike Murray. "Taylor has organized more than 40 events in the community this year while handling our game day operations as well. He's been a great asset to our staff and organization."
The GKHA hosts the annual Stars of the Industry Pauly Awards to recognize individuals in the Knoxville area who show dedication, devotion and excellence to the hospitality industry. Stefishen was named a finalist for the award last month and was recognized at a luncheon hosted by the GKHA Thursday afternoon.
Stefishen helped organize a wide variety of outreaches throughout East Tennessee. He setup instructional floor hockey outings with the Boys & Girls Club, as well as elementary schools in four different counties. He established a presence in the community by engaging in events with organizations such as the Alzheimer's Association, East Tennessee Children's Hospital, the Salvation Army and Toys for Tots among others.
A native of North Vancouver, Stefishen was a fifth-round draft pick to the Nashville Predators in 2008. He saw time in the ECHL and AHL, and spent time overseas playing in Hungary, Italy, France and Great Britain. He concluded his playing career with the Ice Bears and was a part of Knoxville's record-setting 42-win campaign that led to the team's fifth regular season title in 2022.
ABOUT The Knoxville Ice Bears: The Knoxville Ice Bears organization began in 2002 and was an inaugural charter member of the Southern Professional Hockey League (SPHL) in 2004. As four-time SPHL Champions and five-time regular season champions, the Ice Bears are an experienced and established organization, offering the city and its visitors a balanced product of highlight-reel hockey, unique and exciting intermission activity and endless fan interaction, presenting the most affordable, family-friendly way to enjoy sports and entertainment. Season, Partial Season and Flex Tickets are now on sale. For more information, visit www.knoxvilleicebears.com or call (865) 525-7825.
-xxx-