For immediate release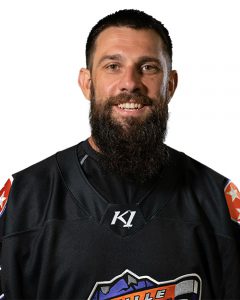 For more information, contact: Joel Silverberg, Director of Broadcasting (865) 525-7825, joel@knoxvilleicebears.com.
The Knoxville Ice Bears have signed defenseman Jason Price for a return to the organization. The 2023-24 season will be Price's seventh in Knoxville, his 15th in the SPHL and 16th professional season overall as a player.
Price was the 2022 SPHL Defenseman of the Year after leading all blue-liners with 46 points. He also set a league-record that season with a +46 rating. He's a two-time All-SPHL First Team selection and was a part of Knoxville's 2015 President's Cup title run.
"Jason brings a wealth of experience to our blue line," said Ice Bears Head Coach Brent Clarke. "He'll help our young guys and will be a leader for us."
Price's 664 career SPHL games are the most in league history and his 329 points are the most by any defenseman. He appeared in 31 games for Pensacola last season, scoring four goals and adding 13 assists.
The Ice Bears begin their 22nd season in franchise history on Friday, October 20 at Macon. Knoxville's home opener will be Friday, October 27 against Birmingham. Free agent camp will take place on October 4-5 with preseason training camp occurring the following week.
ABOUT The Knoxville Ice Bears: The Knoxville Ice Bears organization began in 2002 and was an inaugural charter member of the Southern Professional Hockey League (SPHL) in 2004. As four-time SPHL Champions and five-time regular season champions, the Ice Bears are an experienced and established organization, offering the city and its visitors a balanced product of highlight-reel hockey, unique and exciting intermission activity and endless fan interaction, presenting the most affordable, family-friendly way to enjoy sports and entertainment. Season, Partial Season and Flex Tickets are now on sale. For more information, visit www.knoxvilleicebears.com or call (865) 525-7825.
-xxx-