For immediate release
For more information, contact: Joel Silverberg, Director of Broadcasting (865) 525-7825, joel@knoxvilleicebears.com.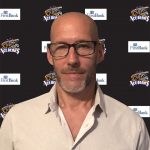 The Knoxville Ice Bears have hired Timothy Abbott as the team's new equipment manager. Abbott has over 30 years of experience as an equipment manager for professional sports teams, primarily ice hockey and football.
He served as the Head Equipment Manager for the Adirondack Red Wings in the AHL from 1987-92 when Adirondack won two Calder Cups during that stretch in 1989 and 1992. He was then the Associate Equipment Manager for the Detroit Red Wings in the NHL from 1992-2006 where he was a part of three Stanley Cups in Hockeytown.
"Having a great equipment manager is invaluable for any team at any level," said Ice Bears Owner/GM/President Mike Murray. "We're excited to bring Tim to Knoxville as part of the Ice Bear family. Anytime you need to fill the role of a team's equipment manager it always feels great knowing you have someone that knows the profession inside and out. I have full confidence Tim will ensure our players are at their best this upcoming season."
Abbott comes to Knoxville from the Allen Americans in the ECHL, where he served in the same role for six seasons. He has also served ECHL stints with Norfolk and Bakersfield. He spent the 2016 year as the Equipment Manager for Oakland University in Michigan.
ABOUT The Knoxville Ice Bears: The Knoxville Ice Bears organization began in 2002 and was an inaugural charter member of the Southern Professional Hockey League (SPHL) in 2004. As four-time SPHL Champions and five-time regular season champions, the Ice Bears are an experienced and established organization, offering the city and its visitors a balanced product of highlight-reel hockey, unique and exciting intermission activity and endless fan interaction, presenting the most affordable, family-friendly way to enjoy sports and entertainment. Season, Partial Season and Flex Tickets are now on sale. For more information, visit www.knoxvilleicebears.com or call (865) 525-7825.
-xxx-