For immediate release
For more information, contact: Joel Silverberg, Director of Broadcasting (865) 525-7825, joel@knoxvilleicebears.com.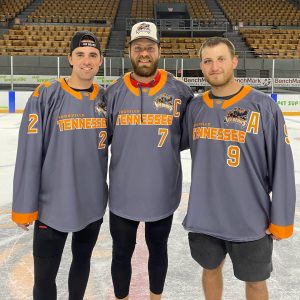 Ice Bears Head Coach Brent Clarke named his team captain and two alternate captains for the 2022-23 season on Monday. Forward Justin MacDonald will serve as captain while winger Dino Balsamo and defenseman Brett Beauvais will be the alternate captains for Clarke's first season as Knoxville's bench boss.
MacDonald is entering his 12th season in professional hockey. He served as captain of the Watertown Wolves in the FPHL last year under Clarke, helping lead the Wolves to the Commissioner's Cup. MacDonald led the league in goals and was the league MVP.
Balsamo returns to Knoxville for his second season with the organization. He scored 27 goals and had 31 assists for 58 points in 46 games after the Ice Bears acquired him in a trade with Macon last November.
Beauvais was with the Ice Bears during the 2020-21 campaign, appearing in 26 games and scoring one goal with eight assists. Last season he played 26 games with Montpellier in France. He spent his first two professional seasons in the ECHL.
The Ice Bears open their 21st season in franchise history Friday night at the Civic Coliseum against the Evansville Thunderbolts. The team will be raising a banner to commemorate their SPHL-leading fifth regular season championship.
ABOUT The Knoxville Ice Bears: The Knoxville Ice Bears organization began in 2002 and was an inaugural charter member of the Southern Professional Hockey League (SPHL) in 2004. As four-time SPHL Champions and five-time regular season champions, the Ice Bears are an experienced and established organization, offering the city and its visitors a balanced product of highlight-reel hockey, unique and exciting intermission activity and endless fan interaction, presenting the most affordable, family-friendly way to enjoy sports and entertainment. Season, Partial Season and Flex Tickets are now on sale. For more information, visit www.knoxvilleicebears.com or call (865) 525-7825.
-xxx-