For immediate release
For more information, contact: Joel Silverberg, Director of Broadcasting (865) 525-7825,  joel@knoxvilleicebears.com.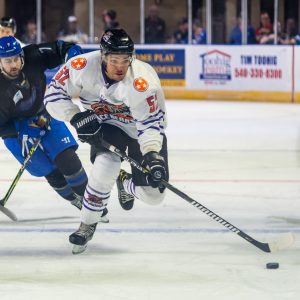 Knoxville surrendered seven goals for the fourth time in its last five games and the Ice Bears fell to Roanoke 7-3 Sunday afternoon at the Berglund Center.
The Ice Bears have dropped four of their last five games, a stretch in which they've given up six goals or more in each game. The win also guaranteed the regular season series to Roanoke, which has a 7-4-1 record against Knoxville this year.
Gehrett Sarges scored the only goal of the opening period when his wrist shot beat Julian Sime on the short-side post from the right face off dot at 4:21.
Knoxville had several chances to get on the board before the intermission, but Justin MacDonald's backhand in front of the crease was stopped by Brody Claeys. MacDonald missed on a one-timer from the right circle and Bailey Conger's rebound attempt from in front sailed wide.
The Ice Bears scored two goals 31 seconds apart to take a 2-1 lead early in the second. Tanner Salsberry got loose on a breakaway in the slot and slipped the puck behind the Claeys to Ryan Devine, who tapped it in for his second of the year.
Nick Pryce put Knoxville in front when Salsberry dished him the puck from behind the net to the front of the crease. Pryce swept in and split Claeys' pads at 6:04 of the second.
Dominiks Marcinkevics scored just over a minute later to tie the game for Roanoke. The Rail Yard Dawgs scored four unanswered goals to close out the second period and take a 5-2 lead into the intermission. Alex DiCarlo, Mac Jansen and C.J. Stubbs all scored for the Rail Yard Dawgs. Sime was pulled after the fourth goal and replaced by Kristian Stead. Sime finished with 21 saves.
Brendan Pepe scored on the power play at 11:23 of the third and Matt O'Dea gave Roanoke its sixth unanswered goal three minutes later.
Pryce scored his second of the night with a wrist shot from the high slot at 16:02 to cap off the scoring.
The Ice Bears visit Evansville on Saturday to take on the Thunderbolts. Roanoke hosts Peoria on Friday.
ABOUT The Knoxville Ice Bears: The Knoxville Ice Bears organization began in 2002 and was an inaugural charter member of the Southern Professional Hockey League (SPHL) in 2004. As four-time SPHL Champions and five-time regular season champions, the Ice Bears are an experienced and established organization, offering the city and its visitors a balanced product of highlight-reel hockey, unique and exciting intermission activity and endless fan interaction, presenting the most affordable, family-friendly way to enjoy sports and entertainment. Season, Partial Season and Flex Tickets are now on sale. For more information, visit www.knoxvilleicebears.com or call (865) 525-7825.
-xxx-