For immediate release
For more information, contact: Joel Silverberg, Director of Broadcasting (865) 525-7825, joel@knoxvilleicebears.com.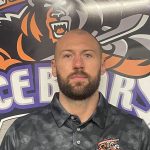 The Knoxville Ice Bears have added Andrew Harrison as the team's new Assistant Coach. Harrison joins the Ice Bears after a ten-season playing career in which he appeared in over 400 professional games.
"I'm excited for the opportunity," Harrison said. "I'm looking forward to working with [Head Coach] Brent [Clarke] and being a part of an organization like Knoxville."
After playing 16 games in Sweden last year, Harrison joined Clarke in Watertown in the FPHL where he had 15 points in 22 games and helped the Wolves win the Commissioner's Cup. He also spent time in the SPHL, ECHL and in Europe.
"I think he's going to be a huge asset," said Clarke. "He had a tremendous playing career. He comes from a good hockey background. His dad was one of my mentors coaching-wise and I think he's going to bring a lot to the table for us."
Prior to his pro career, Harrison is a native of Sault Ste. Marie, Ontario and played his college hockey at the University of Wisconsin-River Falls. He appeared in 126 SPHL games with Pensacola, Evansville, Huntsville and the Mississippi Surge. He also played in 42 ECHL games.
The Knoxville Ice Bears open their 21st season on Friday, October 21 at the Knoxville Civic Coliseum. Tickets are available at the team's website www.knoxvilleicebears.com or by calling the ticket office at (865) 525-7825.
ABOUT The Knoxville Ice Bears: The Knoxville Ice Bears organization began in 2002 and was an inaugural charter member of the Southern Professional Hockey League (SPHL) in 2004. As four-time SPHL Champions and five-time regular season champions, the Ice Bears are an experienced and established organization, offering the city and its visitors a balanced product of highlight-reel hockey, unique and exciting intermission activity and endless fan interaction, presenting the most affordable, family-friendly way to enjoy sports and entertainment. Season, Partial Season and Flex Tickets are now on sale. For more information, visit www.knoxvilleicebears.com or call (865) 525-7825.
-xxx-