For immediate release
For more information, contact: Joel Silverberg, Director of Broadcasting (865) 525-7825,  joel@knoxvilleicebears.com.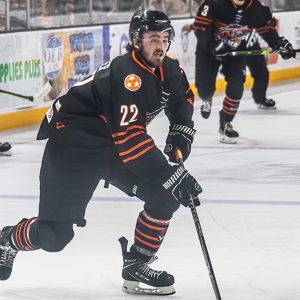 Bailey Conger scored twice as the Knoxville Ice Bears fell to the Pensacola Ice Flyers 5-2 at the Pensacola Bay Center Sunday night.
The Ice Bears had a three-game win streak snapped with the loss. The Ice Flyers ended a three-game skid.
Pensacola scored twice in the final four minutes of the first period to take a 2-0 lead into the intermission. Ivan Bondarenko scored from in front of the crease at 16:04 and Joey Sofo scored off his own rebound with just over a minute to go in the period.
Andrew Durham finished off an odd-man rush with a wrist shot from the right circle at 8:17 of the second. Bondarenko notched his second of the night before the intermission after Durham slipped him the puck int he slot and he beat Kristian Stead down low.
Stead was pulled after the second period and finished with 15 saves. He was replaced by Julian Sime, who stopped eight shots.
Conger scored early in the third on the power play with a shot from the slot that made its way through traffic and beat the blocker of Brad Arvinitis. Conger notched his second after scooping up a loose puck by the crease following a shot by Brett Ouderkirk into a dense slot. Arvanitis finished with 30 saves.
The Ice Bears return home to host Roanoke on Friday. Pensacola heads to Fayetteville on Thursday.
ABOUT The Knoxville Ice Bears: The Knoxville Ice Bears organization began in 2002 and was an inaugural charter member of the Southern Professional Hockey League (SPHL) in 2004. As four-time SPHL Champions and five-time regular season champions, the Ice Bears are an experienced and established organization, offering the city and its visitors a balanced product of highlight-reel hockey, unique and exciting intermission activity and endless fan interaction, presenting the most affordable, family-friendly way to enjoy sports and entertainment. Season, Partial Season and Flex Tickets are now on sale. For more information, visit www.knoxvilleicebears.com or call (865) 525-7825.
-xxx-