For immediate release
For more information, contact: Joel Silverberg, Director of Broadcasting (865) 525-7825,  joel@knoxvilleicebears.com.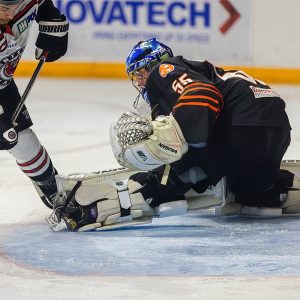 Mike Robinson made 34 saves and the Knoxville Ice Bears fell to the Huntsville Havoc 5-1 at the Von Braun Center Monday afternoon.
Justin MacDonald scored for Knoxville. Bailey MacBurnie made 27 saves.
Both teams had opportunities in the first period, but couldn't light the lamp before the first intermission. Knoxville failed to convert a 5-on-3 power play early and MacBurnie stopped a wrist shot from Tyler Piacentini in the left circle. Mike Robinson held onto Knoxville's best chances when Colton Fletcher fired a wrister from the high slot and Nick Pryce made a quick release from the right hash. MacBurnie stopped Rob Darrar from the right circle with the blocker.
MacDonald scored first to put Knoxville in front with a wrist shot from the left circle at 3:29. Tanner Salsberry kept the puck in the zone on the right wall and sent it up high to Rourke Russell at the blue line. Russell's pass into traffic was deflected before MacDonald collected it and beat Robinson's blocker for his 31st goal of the season.
Darrar tied the game for Huntsville at 8:46 when a clearing attempt came off the glass and bounced straight to the high slot, where Darrar beat MacBurnie thanks to the fortunate bounce. Robbie Fisher scored a minute and a half later to put the Havoc in front at the second intermission.
Jacob Barber and Alex Kielczewski scored 35 seconds apart to make it 4-1 for Huntsville. Darrar scored his second of the night from the right circle at 7:52 of the third to cap off the scoring.
Knoxville will head to Roanoke on Thursday for the first of a three-game set against the Rail Yard Dawgs. Huntsville visits Fayetteville on Friday.
ABOUT The Knoxville Ice Bears: The Knoxville Ice Bears organization began in 2002 and was an inaugural charter member of the Southern Professional Hockey League (SPHL) in 2004. As four-time SPHL Champions and five-time regular season champions, the Ice Bears are an experienced and established organization, offering the city and its visitors a balanced product of highlight-reel hockey, unique and exciting intermission activity and endless fan interaction, presenting the most affordable, family-friendly way to enjoy sports and entertainment. Season, Partial Season and Flex Tickets are now on sale. For more information, visit www.knoxvilleicebears.com or call (865) 525-7825.
-xxx-