For immediate release
For more information, contact: Joel Silverberg, Director of Broadcasting (865) 525-7825,  joel@knoxvilleicebears.com.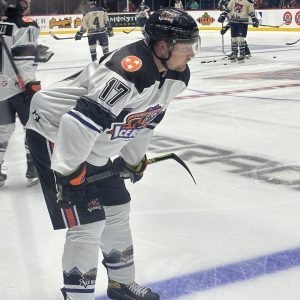 Alex Cohen and Jake Goldowski each had a four-point night and the Knoxville Ice Bears fell to the Macon Mayhem 7-2 in the season opener for both teams Friday night at the Macon Coliseum.
Joey Berkopec, Tanner Nagel and Tommy Munichiello also scored for the Mayhem. Macon scored five goals in the third period to break a 2-2 tie.
Rex Moe opened the scoring for Knoxville with a goal from in front of the crease at 14:25 of the first period. Dawson McKinney won a puck battle along the right-wing wall and fed it back behind the net to Justin Levac. Levac slid the puck out in front to Moe, who snuck up behind Josh Boyko and put the shut away up high.
Berkopec scored two and a half minutes later to tie the game for Macon. Goldowski's shot hit the near-side post and bounced out to Berkopec, who put it on net past Dereck Baribeau.
Brady Fleurent gave Knoxville the lead in the second with a wrist shot from the slot at 3:34. Knoxville worked the puck in the zone around the perimeter before Fleurent found an open space in the zone to get the shot off.
Cohen tied the game for Macon when a shot by Tim Faulkner deflected wide and bounced off the boards back to Cohen on the side of the crease at 11:22.
Both teams had chances to take the lead before the second intermission, but Boyko broke up a chance by Moe in front of the crease and Baribeau stopped C.J. Hayes on a breakaway.
Cohen scored his second of the night 45 seconds into the third after Goldowski found him in front of the crease from behind the net.
Nagel, Munichiello and Goldowski all scored within a four-minute stretch to break the game wide open before Goldowski netted his second of the night late to cap off the scoring. Baribeau finished with 29 saves for Knoxville. Boyko stopped 29 for the Mayhem.
The two teams will face off again Saturday night in Macon to wrap up the weekend.
ABOUT The Knoxville Ice Bears: The Knoxville Ice Bears organization began in 2002 and was an inaugural charter member of the Southern Professional Hockey League (SPHL) in 2004. As four-time SPHL Champions and five-time regular season champions, the Ice Bears are an experienced and established organization, offering the city and its visitors a balanced product of highlight-reel hockey, unique and exciting intermission activity and endless fan interaction, presenting the most affordable, family-friendly way to enjoy sports and entertainment. Season, Partial Season and Flex Tickets are now on sale. For more information, visit www.knoxvilleicebears.com or call (865) 525-7825.
-xxx-