For immediate release
For more information, contact: Joel Silverberg, Director of Broadcasting (865) 525-7825,  joel@knoxvilleicebears.com.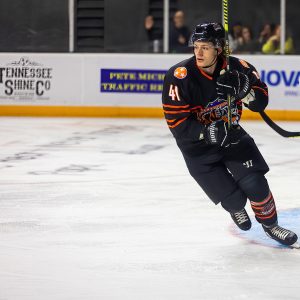 Alec Hagaman had a goal and an assist for Peoria and the Knoxville Ice Bears fell to the Rivermen 5-2 at the Peoria Civic Center Saturday night.
Justin MacDonald and Cam Hough scored for the Ice Bears and Bailey MacBurnie made 17 saves in relief.
Peoria scored the only goal of the opening period when Dale Deon finished off an odd man rush with a goal from the right circle. Marcel Godbout received the puck on the left side and centered it to Alexandre Carrier. Carrier skated into the left circle and lifted a saucer pass to Deon at the right side. Deon fired on an open net to give the Rivermen the lead at the first intermission.
The Rivermen struck quickly in the second when Hagaman scored just 11 seconds in. Hagaman stole the puck in the neutral zone and accelerated through the left circle before putting a wrist shot past Alec Calvaruso.
Joseph Drapluk added to Peoria's lead when he scored from in front of the crease at 2:42. Calvaruso was pulled after the third goal and replaced by MacBurnie. Calvaruso finished with seven saves.
MacDonald got Knoxville on the board at 5:46 of the second to make it 3-1. Colton Fletcher fed MacDonald the puck from the high slot into the right circle. MacDonald skated in close and faked out Ben Churchfield to slip the puck into the net for his 19th goal of the year.
Cam Hough brought Knoxville to within one at 5:58 of the third when his wrist shot from the high slot hit the post and bounced in to make it 3-2.
Rex Moe appeared to score the tying goal at 7:59 with a wrist shot from the right circle, but the goal was waived off due to an unsportsmanlike conduct penalty that occurred earlier in the sequence.
Jordan Ernst and Zach Wilkie scored in the final three minutes to cap off the scoring for the Rivermen. Churchfield finished with 22 saves.
The two teams will face off again Sunday afternoon to wrap up the three-game weekend series.
ABOUT The Knoxville Ice Bears: The Knoxville Ice Bears organization began in 2002 and was an inaugural charter member of the Southern Professional Hockey League (SPHL) in 2004. As four-time SPHL Champions and five-time regular season champions, the Ice Bears are an experienced and established organization, offering the city and its visitors a balanced product of highlight-reel hockey, unique and exciting intermission activity and endless fan interaction, presenting the most affordable, family-friendly way to enjoy sports and entertainment. Season, Partial Season and Flex Tickets are now on sale. For more information, visit www.knoxvilleicebears.com or call (865) 525-7825.
-xxx-