For immediate release
For more information, contact: Joel Silverberg, Director of Broadcasting (865) 525-7825,  joel@knoxvilleicebears.com.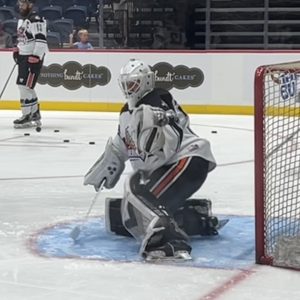 C.J. Hayes scored halfway through the third period and the Knoxville Ice Bears fell to the Macon Mayhem 2-1 at the Macon Coliseum Saturday night.
Coy Prevost scored for Knoxville. Kristian Stead made 28 saves in his first start of the season.
Michael McChesney opened the scoring for Macon on the power play at 6:56 of the first. Hayes carried the puck into the zone on the right wing and made his way to the slot. He found McChesney perched in the left circle and his one-timer beat Stead to give Macon the lead.
Prevost scored when Cole McKechney found him in front of the net from the left side at 5:52 of the second. Jason Price fired a shot from the left point that was deflected wide of the net and bounced off the boards. McKechney swept the loose puck out in front of the crease behind Jimmy Poreda and Prevost put the puck on the open net.
Hayes scored on a breakaway after Tommy Munichiello hit him with a stretch pass up the right wing. Hayes skated past Knoxville's defense, accelerated through the right circle and lifted a backhand over Stead to cap off the scoring.
Knoxville nearly tied the game late with the extra attacker, but Poreda stopped Skate Skalde from the slot and Gavin Yates' shot from the left circle was blocked. Poreda finished with 34 saves against his former team.
The Ice Bears return to Knoxville for their home opener against Birmingham on Friday. Macon hosts Fayetteville on Friday.
ABOUT The Knoxville Ice Bears: The Knoxville Ice Bears organization began in 2002 and was an inaugural charter member of the Southern Professional Hockey League (SPHL) in 2004. As four-time SPHL Champions and five-time regular season champions, the Ice Bears are an experienced and established organization, offering the city and its visitors a balanced product of highlight-reel hockey, unique and exciting intermission activity and endless fan interaction, presenting the most affordable, family-friendly way to enjoy sports and entertainment. Season, Partial Season and Flex Tickets are now on sale. For more information, visit www.knoxvilleicebears.com or call (865) 525-7825.
-xxx-