For immediate release
For more information, contact: Joel Silverberg, Director of Broadcasting (865) 525-7825,  joel@knoxvilleicebears.com.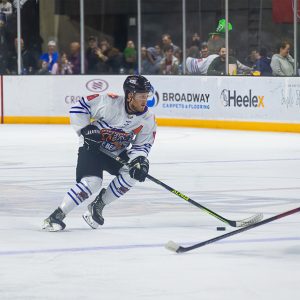 Austin Martinsen scored twice and the Knoxville Ice Bears fell to the Huntsville Havoc 5-1 in game one of the first round of the SPHL playoffs Thursday night. The Havoc lead the best-of-three series 1-0.
Knoxville was outshot 42-21 and has scored exactly one goal in three straight playoff games dating back to last season. Game two is Friday night in Knoxville.
Knoxville took advantage of its first power play when Dino Balsamo scored off a deflection at 3:39 of the first. Bailey Conger kept the puck in the zone and poked it back to the blue line for Rourke Russell. Balsamo redirected Russell's shot to give the Ice Bears the lead.
Robbie Fisher answered for Huntsville a few moments later when Kristian Stead only got a piece of his one-timer before it slipped behind him and trickled over the goal line. Sy Nutkevitch won the face off in the left circle back to Fisher, who immediately took the shot to tie the game at 6:59.
Brett Ouderkirk was given a match penalty for slew-footing 17 seconds into the second period to give Huntsville a 5-minute power play. The Ice Bears successfully killed off the major, but went back to the penalty box moments later for too many men on the ice. Austin Martinsen scored on the ensuing power play to give Huntsville its first lead at 8:10.
Martinsen scored just over two minutes later when he chased down the puck off a bounce into the neutral zone and beat Stead for a shorthanded goal to make it 3-1. Sam Hunter scored three minutes later to make it a three-goal game.
Mason Palmer scored from the right circle with 37 seconds left in the period to make it 5-1 at the second intermission. Stead finished with 37 saves. Max Milosek made 20 stops for Huntsville.
The two teams will head back to Knoxville for game two of the best-of-three series at the Civic Coliseum on Friday night. Game three will be played back in Huntsville if necessary.
ABOUT The Knoxville Ice Bears: The Knoxville Ice Bears organization began in 2002 and was an inaugural charter member of the Southern Professional Hockey League (SPHL) in 2004. As four-time SPHL Champions and five-time regular season champions, the Ice Bears are an experienced and established organization, offering the city and its visitors a balanced product of highlight-reel hockey, unique and exciting intermission activity and endless fan interaction, presenting the most affordable, family-friendly way to enjoy sports and entertainment. Season, Partial Season and Flex Tickets are now on sale. For more information, visit www.knoxvilleicebears.com or call (865) 525-7825.
-xxx-