For immediate release
For more information, contact: Joel Silverberg, Director of Broadcasting (865) 525-7825, joel@knoxvilleicebears.com.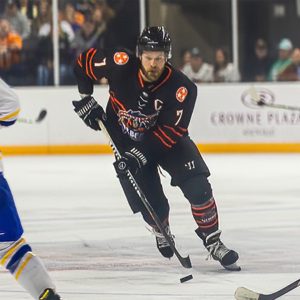 The Southern Professional Hockey League has named Ice Bears forward Justin MacDonald as the league's Player of the Month for February. It's the second such honor for MacDonald, who also won the award for January. He's just the second player to ever win the award in back-to-back months, joining Kevin Swider, who did it for Knoxville during the 2009-10 season.
MacDonald scored nine goals and added seven assists for 16 points in nine games as the Ice Bears went 6-3 in those contests. He had five multipoint games in February and registered at least one point in every game he appeared in.
The reigning FPHL MVP leads the league in goals (32), assists (40) and points (72). The 72 points are already the most by an Ice Bear since 2011-12.
The Ice Bears open the month of March with a home game against Roanoke Thursday night at the Civic Coliseum. Knoxville will visit Macon on Saturday.
ABOUT The Knoxville Ice Bears: The Knoxville Ice Bears organization began in 2002 and was an inaugural charter member of the Southern Professional Hockey League (SPHL) in 2004. As four-time SPHL Champions and five-time regular season champions, the Ice Bears are an experienced and established organization, offering the city and its visitors a balanced product of highlight-reel hockey, unique and exciting intermission activity and endless fan interaction, presenting the most affordable, family-friendly way to enjoy sports and entertainment. Season, Partial Season and Flex Tickets are now on sale. For more information, visit www.knoxvilleicebears.com or call (865) 525-7825.
-xxx-