For immediate release
For more information, contact: Joel Silverberg, Director of Broadcasting (865) 525-7825, joel@knoxvilleicebears.com.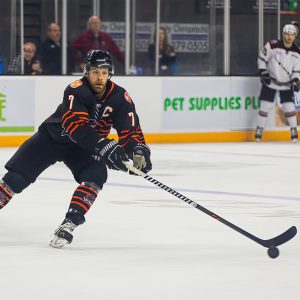 The Southern Professional Hockey League has named Ice Bears forward Justin MacDonald as the league's Player of the Month for January.
Knoxville's captain led Knoxville to a 6-4-1 record during the month while scoring ten goals and adding 11 assists for 21 points in 11 games through January. He leads the league in goals (23), assists (33) and points (56).
MacDonald had four games with three points or more in January, including a hat trick against Peoria on Jan. 13 and a four-point performance against Macon on Jan. 22. He's also had four game-winning goals this season for Knoxville.
The Ice Bears continue their current homestead with games at the Civic Coliseum Friday and Saturday. Friday night is Fight Night as the Ice Bears look to fight hunger with a canned food drive. Saturday night is Star Wars night. Puck drop is scheduled for 7:35 p.m. on each night.
ABOUT The Knoxville Ice Bears: The Knoxville Ice Bears organization began in 2002 and was an inaugural charter member of the Southern Professional Hockey League (SPHL) in 2004. As four-time SPHL Champions and five-time regular season champions, the Ice Bears are an experienced and established organization, offering the city and its visitors a balanced product of highlight-reel hockey, unique and exciting intermission activity and endless fan interaction, presenting the most affordable, family-friendly way to enjoy sports and entertainment. Season, Partial Season and Flex Tickets are now on sale. For more information, visit www.knoxvilleicebears.com or call (865) 525-7825.
-xxx-