For immediate release
For more information, contact: Joel Silverberg, Director of Broadcasting (865) 525-7825, joel@knoxvilleicebears.com.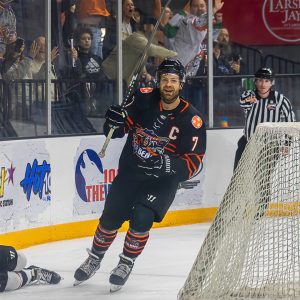 Ice Bears center Justin MacDonald has won the SPHL MVP Award, the league announced Thursday afternoon. MacDonald served as Knoxville's captain in his first year as an Ice Bear. He was the league's leading scorer and was named to the All-SPHL First Team earlier this month. It's the fifth time a Knoxville player has won the honor and first since Berkley Scott in 2017-18.
A native of Newmarket, Ontario, MacDonald starred in his first season in Knoxville, leading the league in goals, assists and points, becoming just the second player in SPHL history to lead the league in all three categories. Former Ice Bear Kevin Swider accomplished the feat in 2007-08. MacDonald's 34 goals were the most by a player in a single season since 2014-15.
MacDonald earned the Swider Leading Scorer Award with 79 points this season, which was ten more than any other player in the league despite missing 11 games over the course of the season. His 1.72 points per game average is the 9th-highest in SPHL history. He joined Swider as the only players in league history to win SPHL Player of the Month in back-to-back months when he won the award in January and February this season.
MacDonald's consistency largely contributed to his offensive success. He had a 21-game point streak from New Year's Eve to Feb. 24. He had 40 points in that span. He had more three-point games (13) than scoreless games (4). He scored a hat-trick in a win over Peoria in January and had a season-high four points in a win over Macon a week later.
ABOUT The Knoxville Ice Bears: The Knoxville Ice Bears organization began in 2002 and was an inaugural charter member of the Southern Professional Hockey League (SPHL) in 2004. As four-time SPHL Champions and five-time regular season champions, the Ice Bears are an experienced and established organization, offering the city and its visitors a balanced product of highlight-reel hockey, unique and exciting intermission activity and endless fan interaction, presenting the most affordable, family-friendly way to enjoy sports and entertainment. Season, Partial Season and Flex Tickets are now on sale. For more information, visit www.knoxvilleicebears.com or call (865) 525-7825.
-xxx-