Bearly Golfin' – The Mike Murray Charity Classic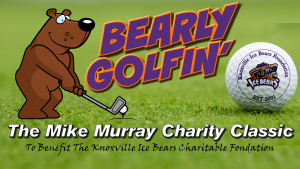 Click the image to register
Foursomes are still available for the Bearly Golfin' – The Mike Murray Charity Golf Classic scheduled for Friday, March 31 at Egwani Farms in Rockford, TN.
The event features the entire team, coaches, and management on the challenging course, new course hockey-related obstacles, a putting contest with a hockey stick, and a post-round reception and banquet, which will include silent and live auctions.
A variety of packages for this exciting event remain. Foursomes begin at $600.00 and include an Ice Bears personality. Proceeds from the event will benefit the Knoxville Ice Bears Foundation.
For more information, or to register, please visit Bearly Golfin' – The Mike Murray Charity Classic
If you have questions please contact us at dfeather@knoxvilleicebears.com