For immediate release
For more information, contact: Joel Silverberg, Director of Broadcasting (865) 525-7825, joel@knoxvilleicebears.com.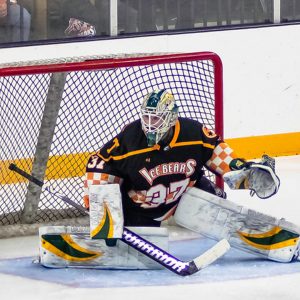 The Southern Professional Hockey League has named Knoxville goalie Kristian Stead as the Warrior Hockey / SPHL Co-Player of the Week for February 7-12 following a pair of road wins on Friday and Saturday. Stead shares the honor with Birmingham goaltender Hayden Stewart.
On Friday against Pensacola, Stead stopped 33 shots as the Ice Bears came away with a 4-1 win. Stead's performance on Friday was highlighted with a diving glove save in the first period to help Knoxville kill off an early penalty.
Don't mind us. Just admiring this diving save from Kristian Stead last night 😍😁😎

Catch the Ice Bears in action again tonight at 8:05 EST! The team broadcast can be heard exclusively on @mixlr! Join us at Union Place Bar & Grill for the road game watch party! pic.twitter.com/sxvECxnxDy

— Knoxville Ice Bears (@icebears) February 12, 2022
The Merritt, BC native closed out the weekend with a 36-save showing to preserve a 2-1 win at the Pensacola Bay Center over the Ice Flyers. Stead made a series of key saves over the final ten minutes of the third period, including a one-timer from the slot with seven seconds remaining to pick up his 12th win of the season.
A rookie out of Alaska-Anchorage, Stead is 12-1-1 this season for Knoxville with a 2.34 goals against average, a .919 save percentage and two shutouts. He is the third Ice Bear to win Player of the Week honors this season, joining fellow netminder Jimmy Poreda and center Anthony McVeigh.
The Ice Bears visit Macon on Thursday night before returning home for two games against Fayetteville on Saturday and Sunday. Tickets are available by calling 525-7825 or visiting www.knoxvilleicebears.com.
ABOUT The Knoxville Ice Bears: The Knoxville Ice Bears organization began in 2002 and was an inaugural charter member of the Southern Professional Hockey League (SPHL) in 2004. As four-time SPHL Champions, the Ice Bears are an experienced and established organization, offering the city and its visitors a balanced product of highlight-reel hockey, unique and exciting intermission activity and endless fan interaction, presenting the most affordable, family-friendly way to enjoy sports and entertainment. Season, Partial Season and Flex Tickets are now on sale. For more information, visit www.knoxvilleicebears.com or call (865) 525-7825.
-xxx-