For immediate release
For more information, contact: Joel Silverberg, Director of Broadcasting (865) 525-7825,  joel@knoxvilleicebears.com.
Kristian Stead made 33 saves for his second shutout of the season and the Knoxville Ice Bears defeated the Roanoke Rail Yard Dawgs 4-0 at the Knoxville Civic Coliseum Friday night.
The Ice Bears have now won four of their last five games. Roanoke has dropped two straight.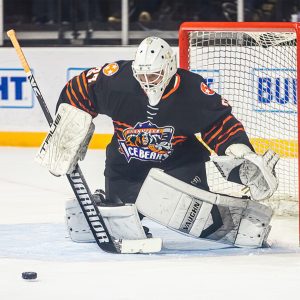 Razmuz Waxin-Engback scored from the right circle to give the Ice Bears an early lead just 1:29 into the game. Jagger Williamson held a clearing attempt in at the right point and slid the puck across to the left side to John DeRoche. DeRoche maneuvered into the left circle and crossed the puck over to Waxin-Engback on the right side. Waxin-Engback's release beat an outstretched Austyn Roudebush for his seventh goal of the year.
Williamson and DeRoche played a pivotal role in Knoxville second goal less than three minutes later. With Knoxville on the power play, DeRoche fed Williamson in the left circle. Williamson found Colton Fletcher in space in the slot. Fletcher turned the puck on net and slipped it by Roudebush to give the Ice Bears a two-goal lead at the first intermission.
Bailey Conger gave the Ice Bears a 3-0 lead early in the second. He received the puck along the right wing with Roanoke on a line change and skated through the right circle. Conger was hit from behind by Matt O'Dea and lost control of the puck, which went into the goal off the short-side post as the skaters crashed into Roudebush.
Roanoke had several chances to get on the board before the second intermission. A one-timer from the left side was kept out with a glove save by Stead. Stead then stopped a breakaway with the blocker and Roanoke hit the post with seconds remaining in the period.
Knoxville added to its lead with Waxin-Engback's second goal of the night. Rourke Russell fed the puck across from the right wing to the front of the crease for Waxin-Engback to quickly put it past Roudebush at 2:53 of the third. Roudebush was pulled for Tyler Roy. Roudebush finished with 11 saves. Roy stopped all six shots he faced.
The two teams face off again Saturday night at the Civic Coliseum.
ABOUT The Knoxville Ice Bears: The Knoxville Ice Bears organization began in 2002 and was an inaugural charter member of the Southern Professional Hockey League (SPHL) in 2004. As four-time SPHL Champions and five-time regular season champions, the Ice Bears are an experienced and established organization, offering the city and its visitors a balanced product of highlight-reel hockey, unique and exciting intermission activity and endless fan interaction, presenting the most affordable, family-friendly way to enjoy sports and entertainment. Season, Partial Season and Flex Tickets are now on sale. For more information, visit www.knoxvilleicebears.com or call (865) 525-7825.
-xxx-