For immediate release
For more information, contact: Joel Silverberg, Director of Broadcasting (865) 525-7825,  joel@knoxvilleicebears.com.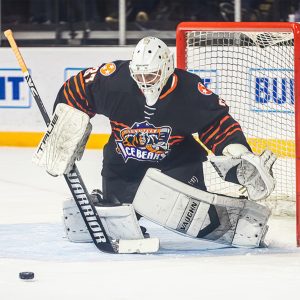 Kristian Stead made 22 saves for his first shutout of the season and the Knoxville Ice Bears defeated the Roanoke Rail Yard Dawgs 3-0 at the Civic Coliseum Thursday night.
Bailey Conger and Jagger Williamson each had a goal and an assist for Knoxville. Matt O'Shaughnessy also scored.
Both defenses were active in their own ends as neither team could find the net in the first period. Knoxville setup Nick Pryce with a one-timer from the right circle, but Austyn Roudebush blocked it by sliding across the crease and stacking his pads. Roanoke got a look with Billy Vizzo open in the left circle on the rush and Stead made a sliding kick save to keep the game scoreless at first intermission.
Conger broke the scoreless tie at 5:38 of the second to put Knoxville in front. After Conger's shot from the right circle was kicked away by Roudebush, Knoxville threw the puck back to the goal. Conger found the loose puck in front of the crease and slipped it by Roudebush for his 14th of the season.
Williamson doubled Knoxville's lead on the power play at 9:56. Williamson carried the puck through the left circle when he tried to make a saucer pass across the slot. The puck hit a Roanoke player's stick and redirected into the net.
Roanoke had a power play early in the third period, but failed to convert. Moments later, minor penalties to Razmuz Waxin-Engback and Tanner Salsberry less than 30 seconds apart gave Roanoke a 5-on-3. C.J. Stubbs hit the post from the left circle, Stead made a glove save through traffic and Williamson blocked a hard slap shot from the high slot off his leg.
Shortly after killing off the Roanoke power play, O'Shaughnessy carried the puck in off the right wing. He exchanged with Conger through the right circle where Conger fed it back to O'Shaughnessy in the slot. O'Shaughnessy's attempt beat Roudebush's blocker at 7:40 of the third.
Knoxville visits Macon on Saturday. Roanoke heads to Birmingham Friday night.
ABOUT The Knoxville Ice Bears: The Knoxville Ice Bears organization began in 2002 and was an inaugural charter member of the Southern Professional Hockey League (SPHL) in 2004. As four-time SPHL Champions and five-time regular season champions, the Ice Bears are an experienced and established organization, offering the city and its visitors a balanced product of highlight-reel hockey, unique and exciting intermission activity and endless fan interaction, presenting the most affordable, family-friendly way to enjoy sports and entertainment. Season, Partial Season and Flex Tickets are now on sale. For more information, visit www.knoxvilleicebears.com or call (865) 525-7825.
-xxx-