For immediate release
For more information, contact: Joel Silverberg, Director of Broadcasting (865) 525-7825,  joel@knoxvilleicebears.com.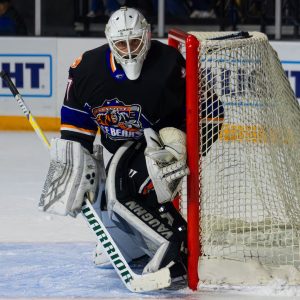 Kristian Stead stopped all 25 shots he faced for his first shutout of the season and the Knoxville Ice Bears overcame a plethora of penalties to hang on for a 1-0 win over the Evansville Thunderbolts Friday night at the Knoxville Civic Coliseum.
Knoxville has won two straight. Evansville is 0-4-1 in its last five.
Brady Fleurent scored the only goal of the game when he slipped a backhand under Sean Kuhn at 6:26 of the second period. Dawson McKinney freed up the puck in the neutral zone with a check into the boards and Justin Levac swept it up the left wing. Levac found Fleurent crossing into the slot and his shot bounced in off of Kuhn for his eighth goal of the year.
Justin Portillo was assessed a five-minute major for fighting and a two-minute minor for instigating when he tussled with Evansville's Michael Greco at the end of the second period. Greco didn't drop his gloves and was not assessed a penalty, giving the Thunderbolts a seven-minute power play to start the third period.
An Evansville penalty early in the third negated two of the seven minutes for Knoxville's penalty kill and the Ice Bears killed off the remaining five. The Ice Bears killed off all six Evansville power plays and Stead denied Bair Gendunov from the left circle with 20 seconds remaining and kicked away a shot at the buzzer to preserve the win.
Knoxville heads to Birmingham Saturday night. The Thunderbolts return home to face Quad City.
ABOUT The Knoxville Ice Bears: The Knoxville Ice Bears organization began in 2002 and was an inaugural charter member of the Southern Professional Hockey League (SPHL) in 2004. As four-time SPHL Champions and five-time regular season champions, the Ice Bears are an experienced and established organization, offering the city and its visitors a balanced product of highlight-reel hockey, unique and exciting intermission activity and endless fan interaction, presenting the most affordable, family-friendly way to enjoy sports and entertainment. Season, Partial Season and Flex Tickets are now on sale. For more information, visit www.knoxvilleicebears.com or call (865) 525-7825.
-xxx-